Nicholas Tiong - Deputy Manager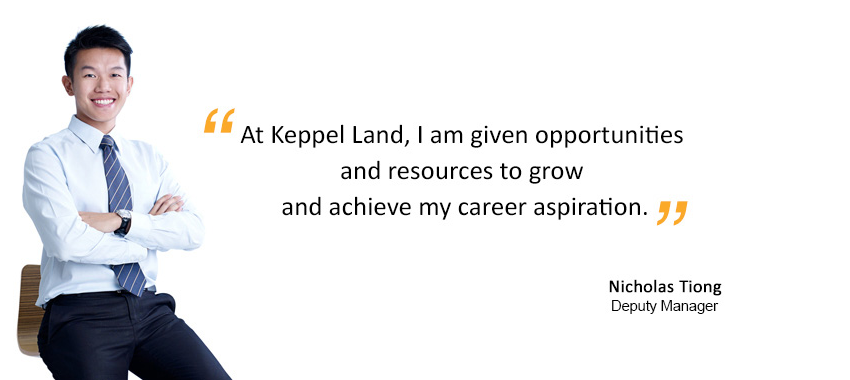 I joined Keppel Land through its scholarship programme, where I got well acquainted with the company's business and culture through vacation attachments during my undergraduate years.
I am fortunate to start my career with a company that doesn't just throw you into the deep end. My first role was in Finance handling a portfolio of accounts for both commercial and residential projects. One significant project was the divestment of a commercial building under my portfolio. Although it was a challenging assignment, my supervisors and experienced colleagues were always willing to guide and impart knowledge, which is especially important for a fresh graduate. In addition, I was given a mentor who understood my career aspirations and gave me much needed advice on the direction I should be heading.
Despite being fresh out of school, the company was willing to let me lead a small team. People management is definitely the most challenging part of my job, and I am glad to have a head-start in this aspect. The steep learning curve accelerates my learning process.
Working in a company which is part of a conglomerate has distinct advantages. I am actively involved in organising networking events and knowledge sharing sessions for young finance professionals within Keppel Group where I get to interact with colleagues from other Keppel businesses, further enhancing my learning.
I am looking forward to my next role in Business Development. My priority now as a young executive is to continuously acquire new skills and gain broader insights into the real estate industry. Keppel Land gives me opportunities to try different roles early on in my career and equips me with the resources and training to help me grow.

Nicholas holds a double degree in accountancy and business management, magna cum laude, from the Singapore Management University, with an exchange programme at London School of Economics Summer School.